I'm currently subbed on 116 people. Even tough it might not be that much for some of you, I can't keep up with the videos. I only watch the videos of my absolute favorite Youtubers all the time. But, who are my favorite Youtubers? Let's find out!
Just before we begin I wanna mention that I'm currently having the worst writers block ever. I made up several ideas, but just deleted them because they weren't fun enough. Hopefully my inspiration will return soon enough, so you won't notice a thing about it. Also, I'll try to mention a Youtuber not twice, but I really don't know it I can do that since I really love some specific human beings. Feel free to do this tag aswell, but first let's see who my favorite Youtubers are!
2 Favorite Vloggers
So I went through my subs, and find out that I only watch every single vlog from one Youtuber which is ThatcherJoeVlogs, aka Joe Sugg. He's not a daily vlogger, and I guess that makes me more exciting when I see he uploaded a Vlog.
Another 'not' daily vlogger who I really like, is Oli White. A combination of Joe and Oli means firework because those two are hilarious! You really should watch their weeks in LA if you haven't yet!
2 Favorite Daily Vloggers
Most of the Vloggers I watch, are daily Vloggers. But the two who stood out most were Zoe Sugg and Alfie Deyes. Zoe's just a typical girl, and Alfie's just a young lad with the best laugh. This couple is so cute together, and their vlogs are awesome!
2 Favorite Entertaining Channels
If anyone is able to combine the attitude of Children with the attitude of a grown up guy, it would be Caspar Lee. Normally I sometimes get annoyed because people act just too childish, but this genius just fits it all.
Sawyer Hartman is amazing aswell. Even tough he might seem like a really Hirsch guy, his Challenges for Charity are set up perfectly! This way of donating is so original!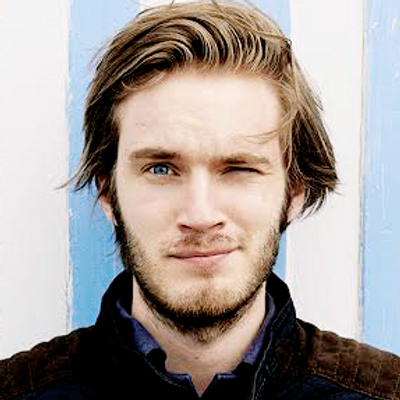 2 Favorite Gamers
Oh gosh, I love gaming channels. Especially GTA V and Outlast are my favorites. First, I really like ChaiPlaysGames, not the biggest channel yet but he's so funny. His laugh is just amazing, and his minecraft skills are too funny.
Secondly, Pewdiepie. He is just amazing, alright. His humour is just so idiotic and it always causes me to laugh.
3 Favorite Music Channels
I assume Ricky Dillon counts, since he uploads a music video every once in a while? He has just this really extraordinary voice and most of his music really makes me wonder where the sun has gone to. Seriously, it's raining all day here!?
I also really like Kurt Hugo Schneider, even tough I'm not sure what he does in all the music videos. He plays instruments, that's for sure, and I also believe he does the editing. Anyway, you really should check him out!
As third, I'll choose Troye Sivan. I absolutely love TRXYE and all his smaller covers.
2 Favorite Beauty Channels
Now, I don't really watch that many beauty channels, but I really like Louise from Sprinkleofglitter. She's just a really carrying person in my eyes, and even tough I just subbed on her a week ago, she's probably my favorite Beauty Channel.
Continuing, I actually don't watch any other beauty Youtubers, besides Zoella but I already mentioned her once. Oh, I like Bethany Mota, but because of her DIY's. Honestly I have no idea if she's called a Beauty Channel.
4 Small YouTube Channels
It's not only the Big Youtubers I watch, I also enjoy watching some other but smaller channels. Most of them are Dutch, but here are my 4 favorite Youtubers with less than 10.000 subscribers.
OnlyNick, he's basically a pretty shy guy but he's still entertaining.
Rory Page, now this boy, I'm telling you. This boy reminds me of Harry Potter. Sort of 'met' him on YouNow and he's a really funny guy.
Zac Deck, just found him and he seems like a really nice guy who could get big in a few years.
Ashlynn Beard. She has this look which tells me that she will get popular soon.
That was it for today :)
The photos in this post do not belong to me. I took then from Google.